February 3, 2022
Marketing is essential to how brands create awareness for their products and services and in turn generate sales. it is all about connecting customers to what brands have to offer at the right time and right place.
With the advent and adoption of social media by all and sundry. Marketing has become wider than before. Everybody is online and businesses have sought out ways to make this work to their advantage by creating content that is not only engaging but generates leads for their business.
An essential way to make a significant impact on the internet and social media (which data has suggested boast about 4 billion users) is through the use of digital marketing. The influence digital marketing has on businesses that adopt it is endless.
What is Digital Marketing
Digital Marketing is the curation of all marketing activities carried out in the digital space to market a product or service. This employs the use of the internet and electronic devices to promote, generate engagement for the business. It is also a way to disseminate the brand message, advertisement and also measure brand impact in the market space. Digital marketing takes advantage of the audience in the internet space and connects brands and their product to the available customers online.
Importance of Digital Marketing
Digital marketing is not just here to stay but to set its root as the evolution that has happened in the marketing space. Everyone is online and basically, all information flows through the internet. This makes digital marketing the best way for businesses to gain publicity and generate more revenue.
Only digital marketing can provide targeted and personalized advertising based on the preferences and tastes of individual customers.
Why is Digital Marketing Vital in a Business?
The entire world is almost digital, information is available almost everywhere online. There is no surprise as to the impact of digital marketing on corporate brands and startups alike.
Brands have adopted the use of digital marketing to help drive sales, generate leads, and gain brand awareness. The influence of digital marketing is unparalleled as it offers myriad options for corporate brands.
Types of Digital Marketing
There are different types of digital marketing but they all play a crucial role in any business. It is important to not just focus on one type of digital marketing technique as they are all instrumental to the continued success of a brand. The types of digital marketing include: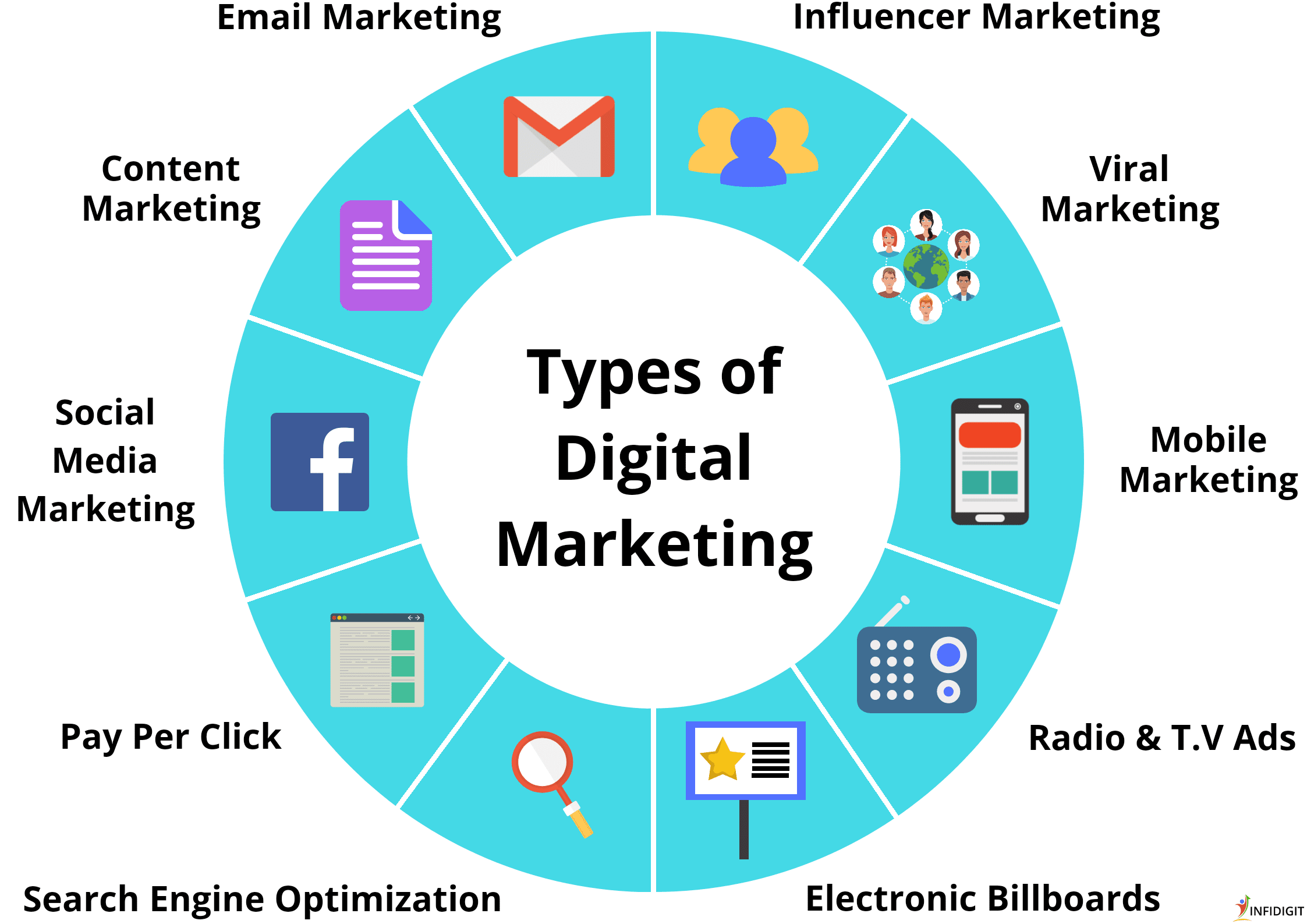 Content Marketing
This forms the very backbone of digital marketing as it can be used to transform passive websites or social media pages into active customers. Content marketing is the art of using a storyline with valuable information that translates to brand building and awareness among the target audience. An effective content marketing strategy is essential for building relationships with the target audience and providing value with content.
Search Engine Optimization (SEO)
Search Engine Optimization or SEO is amongst the most important types of digital marketing for your business. This helps to ensure that your articles, social media content, and web pages are at the top of the search results of search engines like google. This is actualized by focusing on keywords or phrases within your content that suit popular trends and what consumers are searching for. The channels that benefit more from SEO include websites, blogs, and infographics.
Although SEO is essential for brand top-of-mind awareness, one mustn't go overboard with the use of keywords. Forcing keywords can make the copy seem unnatural causing the quality of the content to drop and become less appealing to the consumers of such content. If you want to reach mass people online and boost sales, SEO is a business priority.
Search Engine Marketing (SEM)
As mentioned above, SEM is also similar to SEO. Search Engine Marketing is simply the paid version of SEO and with the help of SEM, a company can purchase advertising space that appears on the Search Engine Result Page. By maintaining a combination of both SEO and SEM, brands can expect a boost in their traffic.
Social Media Marketing
Almost every one of differing demographics is on social media. Social media plays a crucial role in the digital marketing strategy of every organization. Through the promotion of products and services on various social media channels such as Twitter, Instagram, YouTube. You tend to boost traffic to your social media pages, websites, generate leads and also increase brand awareness.
Social media marketing works hand in hand with other types of digital marketing as one cannot function without the other.
Email Marketing
Another type of digital marketing is Email Marketing. This entails sending emails to existing and potential client bases to promote the business. An essential way to build email marketing is through the use of newsletters. This is achieved by asking people to sign up for the newsletters when they sign up on your website and then use the opportunity to send them regular updates about your products and services.
Affiliate Marketing
This is a type of digital marketing that helps a business promote sales. This helps businesses partner up with another business and promote it on their website/app. Affiliate marketers help sell other people's products through the use of various marketing strategies and in return will receive a commission when a lead is generated. This is a way for businesses to expand their reach and grow more organically.
Influencer Marketing
This is another essential type of digital marketing. This involves the use of individuals with huge followings i.e., celebrities, influencers to promote products and services. This form of digital marketing has become very common amongst both established brands and startups alike. When this is done right, the scope of influencer marketing is very huge and comes with huge benefits.
Mobile Marketing
Another type of digital marketing used by most brands is mobile marketing. In this century, people are practically glued to their mobile devices and brands use this to target a potential client base through the use of apps or SMS.
The use of a simple, user-friendly app helps people engage more with a brand. At the same time, websites and brands can also send out regular push notifications through the apps while SMS can be used to make people have different discounted offers up for grabs.
Digital Marketing scope keeps spanning as we keep entering into the world of digitization and businesses need to keep on taking advantage of the benefit it brings.
Over to you
Explore the world of digital marketing and enjoy all its benefits by allowing Printipy to carry all your marketing burdens. With years of expertise in growing brand experience. Your digital marketing journey can only be a success with Printipy.